View Larger Image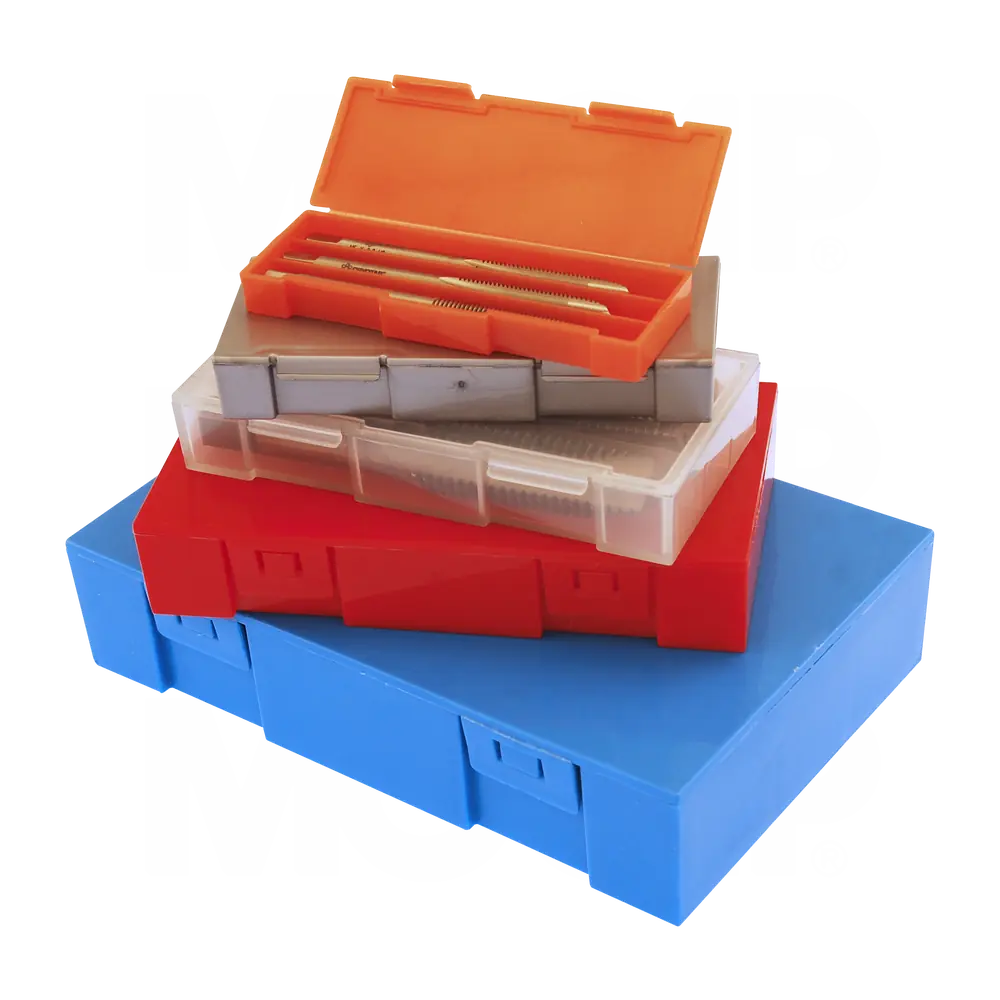 Material: PP (Polypropylene)
Stocked Material: PP (Polypropylene) (Transparent)
Durable, Reusable and Resistant to Contaminates and Moisture
Features Individual Compartments
Secure Snap Closure with Hinged Lid
Reference #
Description
To Fit ISO 529
To Fit DIN 352
To Fit ANSI 302
Compartment Length

Compartment Diameter

Outside Length

Outside Width

Outside Height


Buy Online

TS3P040
Tap Set Boxes - 2-19/64 x 11/64 (58.5mm X 4.5 mm) TAP SET BOX, PP
5/32" (4mm)
4mm
5/32" (no. 8)

58.5

4.5

2.406

61.1

20.0

6.5

TS3P060
Plastic Packaging for 3 Set Tap - 2-27/32 X 1/4 (72 mm X 6.5 mm) TAP SET BOX, PP
3/16 - 1/4" (4.5-6mm)
4.5 - 6mm
3/16 - 1/4" (no. 9-14)

72.0

6.5

2.945

74.8

27.0

8.7

TS3P100
Packaging for 3 Hand Tap Set - 3-7/32 X 3/8 (82 mm x 10 mm) TAP SET BOX, PP
5/16 - 3/8" (7-10mm)
7 - 10mm
5/16 - 3/8"

82.0

10.0

3.378

85.8

37.4

12.6

TS3P120
Tap Set Packaging - 3-37/64 X 1/2 (91 mm X 13mm) TAP SET BOX, PP
7/16 - 1/2" (11-12mm)
11 - 12mm
7/16 - 1/2"

91.0

13.0

3.756

95.4

46.7

16.3

TS3P160
Tap Packaging Boxes - 4-3/32 X 5/8 (104 mm x 16.5 mm) TAP SET BOX, PP
9/16 - 5/8" (14-16mm)
14 - 16mm
9/16 - 5/8"

104.0

16.5

4.280

108.7

59.0

20.0

TS3P250
Plastic Packaging for 3 Set Tap - 5-3/16 X 1 (132 mm x 26 mm) TAP SET BOX, PP
3/4 - 1" (18-24mm)
18 - 24mm
3/4 - 1"

132.0

26.0

5.433

138.0

88.8

30.3
Tap Set Boxes - Information
Three compartment Tap Set Boxes are the best packaging option for high quality set-of-3 hand taps.


Designed to hold ISA, DIN and ANSI Series taps,
Tap Set Boxes
are durable, re-useable and conveniently stack for safe handling and storage.
Tap Set Boxes
are available in transparent Polypropylene (PP) and is 100% recyclable. Additional colors available.
Contact us
at 800.817.8967 for pricing, special orders and product information.